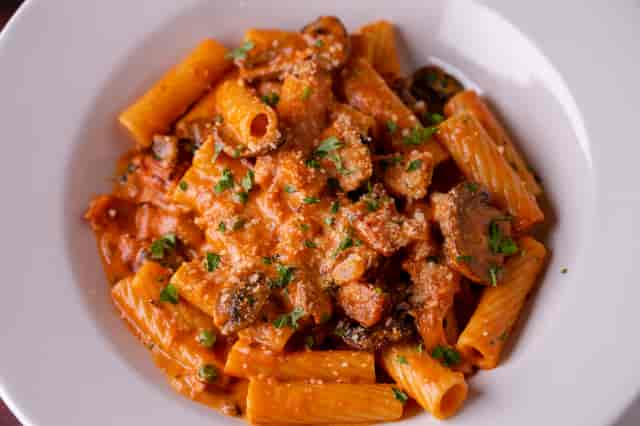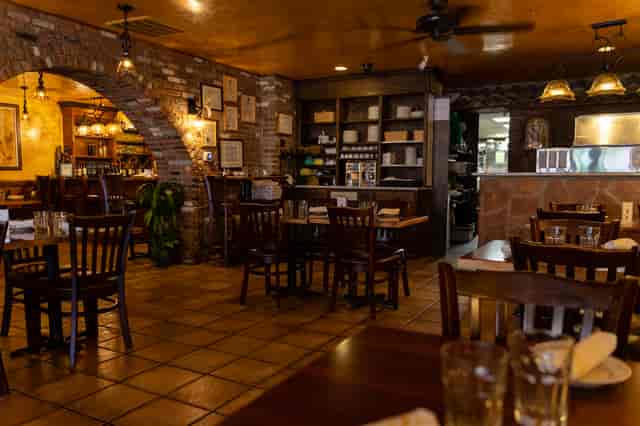 About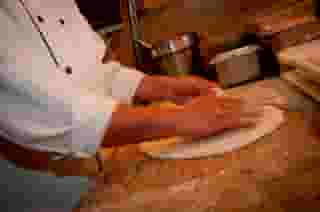 The Scene
Owner Carla Gomes has found a great balance between down-home and downtown southern Italian food. The result? A restaurant serving top-notch food at prices that even students and families can afford. Antico Forno is loud, but still a charmer–this country mouse has all the right moves.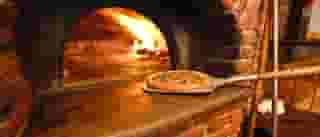 The Food
Most everything is cooked in a burning brick oven, as the restaurant's name implies (antico forno means "old oven"). The salsiccia e broccoletti pizza is a marvel of fresh dough, bitter broccoli rabe, homemade sausage and buffalo mozzarella. And they're not kidding about the brick-oven thing; lamb, chicken dishes, even the mashed potatoes, have that caramelized, crispy crust that comes from searing with intense heat.
Raves & Reviews
Top Ten Italian Restaurants Around the World
Antico Forno is billed as "The Most Authentic Italian Restaurant," and we're hard pressed to argue. This mainstay in Boston's North End manages a cozy mom-and-pop atmosphere with world-class traditional cuisine. Entrees like Saltimbocca di Pollo and Linguine al Frutti di Mare hearken back to the old country, but Antico Forno is best known for its brick-oven pizzas piled high with house-made Italian sausages and mozzarella.

"No gimmicks, no kitsch", just traditional Neapolitan pizzas from a wood-fired brick oven and other "spot-on" Southern Italian fare set apart this "well-priced" North End stalwart; the "lively", "loud" space is an "everyday destination", so "get there early" or "plan for a wait."
2012 Best North End Restaurant, Neighborhood : Antico Forno
Dining at a lively North End restaurant doesn't have to mean slurping spaghetti in tight quarters. In fact, Antico Forno is spacious enough to accommodate a weeknight impulse visit, family in tow. The thin-crusted pizzas from the brick oven are divine (our favorite is topped with artichoke hearts, cherry tomatoes, mushrooms, and white truffle oil), as are hearty pasta dishes like linguine baked in parchment with tomato sauce and a generous serving of shellfish.
10BEST Says (#8 Boston Family Friendly)
Best Value: Traditional Italian baked in a brick oven sets this Italian restaurant apart. Serving a selection of pastas, entrees and pizzas all cooked to perfection in their famous brick oven at reasonable prices, Antico Forno is a good value. Kid friendly (although lacking a children's menu), Antico Forno serves even the littlest one sin style. Serving some of the best pies around, Antico Forno carries a large selection of toppings to help you make your pizza a balanced meal. One pizza could easily feed a few people, but stopping with the pizza would be a crime. But Antico Forno is more than a North End family pizza joint, it's a experience win Italian dining. Offering customer favorite like baked gnocchi and parmagiana di vitello you'll enjoy every bite of your main course.

Family Friendly, Best of Boston's North End: Traditional Italian baked in a brick oven make this kid friendly, North End pizzeria a favorite. Serving some of the best pies around, Antico Forno carries a large selection of toppings to help you make your pizza a balanced meal. One pizza could easily feed a few people, but stopping with the pizza would be a crime. Antico Forno also offers an excellent selection of baked pasta dishes and tasty appetizers. Most meals are under $20 and are big enough to share. The casual setting of this inviting neighborhood trattoria provides a truly authentic Neapolitan experience. And you'll be able to get your fix of Italian red specialties that could move your Italian Grandma to the second best "gravy" you've had.
Many of the menu choices here come from the eponymous wood-burning brick oven, which turns out surprisingly delicate pizzas simply topped with tomato and fresh buffalo mozzarella. Though its pizzas receive top billing, Antico excels at a variety of Italian country dishes. Don't overlook the hearty baked dishes and handmade pastas; the specialty, gnocchi, is rich and creamy but light. The joint is cramped and noisy, but also homey and comfortable—which means that your meal will resemble a raucous dinner with an adopted Italian family.
Boston's Best Brick Oven Pizzas
Boston has countless restaurants throughout town featuring everyone's favorite treat, pizza. But the best pizza spots in Boston use brick ovens since they create the best quality pies you could ask for. By using these ovens, they are able to heat the pizzas in just minutes to high temperatures. You get evenly-cooked, browned, thin-crisp crust on the outside with a chewy texture on the inside. Plus the sauce is warmed, the cheese is melted and the toppings are cooked to perfection. Whether you like to keep it simple with a cheese pizza or go all out with veggies and meats, the following spots will not disappoint.

Also featuring brick-oven pizza in the North End is Antico Forno. The menu offers plenty of baked pasta dishes, but the pizzas are also a favorite. Antico serves delicious authentic Neapolitan pizza for $12.50 with fresh plum tomato sauce, aromatic oregano and roasted garlic, sans cheese, or go for a classic with the Margherita made from fresh housemade mozzarella, plum tomato sauce and fresh basil for just $13. But there is something to be said about the Carciofi E Porcini pizza where Antico takes artichoke hearts, imported Italian porcini mushrooms, mozzarella and cherry tomatoes, finishing the pizza off with a touch of white truffle oil, or the Vesuvio with mozzarella, roasted peppers, ricotta cheese, cherry tomatoes and fresh sliced prosciutto.
A well-prepared selection of rustic dishes: brick-oven pizzas, roasted vegetables, entrees in terra cotta pots, and good bread and olives. Good place for a date and a bottle of red.