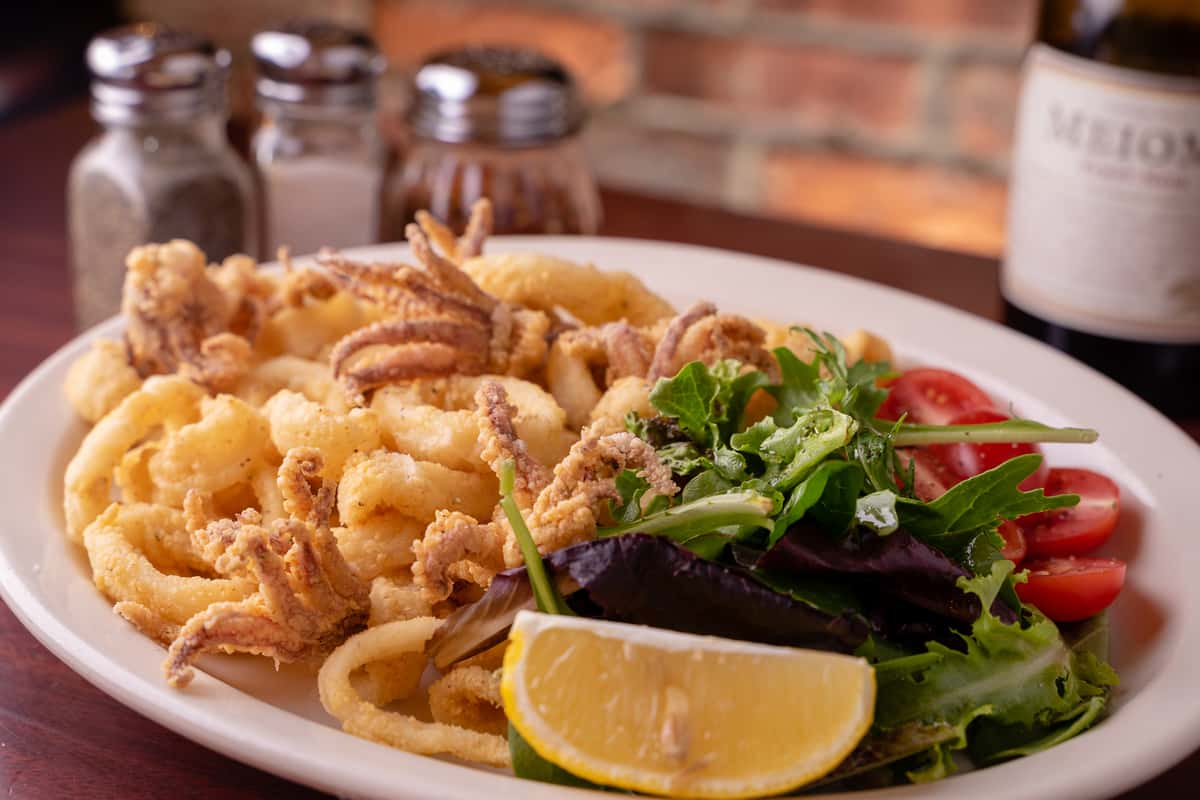 Testimonials
"Good place for a date and a bottle of red."
"Sawdust-covered floors, a mural-sized rendition of the Tuscany countryside, and a statue of St. Rocco tucked into a beehive-shaped, wood-burning brick oven decorate this rustic trattoria — it serves a well-prepared selection brick-oven pizzas, roasted vegetables, entrees in terra cotta pots, and good bread/olives. Good place for a date and a bottle of red. Highlights: Cozze Picanti, Linguine Al Frutti Di Mare" — Joshua Berk
"Perfect for lunch or dinner"
"If you like Italian food and are in Boston, try this place. It is consistant and their very reasonable in their prices. perfect for lunch or dinner, family oriented" — Masoud Tabrizi
"So many appealing pizza options"
"This was described to me as the closest to authentic Neapolitan pizza I'd find in Boston and I think that's true. I had the INVOLTINI DI MELANZANE: rolled zucchini stuffed with goat cheese and basil to start. It was good but not my favorite since some of the other salads are similarly priced also with interesting ingredients. We got a half & half pizza too. It was half VESUVIO: Fresh mozzarella, roasted peppers, ricotta, cherry tomatoes, and prosciutto. The other half was MARGHERITA. They have so many appealing pizza options that are each plenty to split or have as delicious leftovers!" — Emily Chilton
"The most amazing dinner"
"My husband and I had the most amazing dinner at your restaurant a few weeks ago. It took us over 50 years to get to Boston and we will not be able to return soon. We keep thinking about your mussels appetizer in the sauce and want to know if you could share the recipe as we crave it often. His birthday is next week and I would love to try and surprise him with this meal. Thanks!"
"Very pleasant and comfortable atmosphere."
"Just wanted to say what a fantastic dinner my wife and our friends had at you restaurant. The food was excellent and Sarah our waitress was great. Very pleasant and comfortable atmosphere. I had the Veal and my wife the roasted chicken. Your tiramisu was the best I ever had. A permanent must stop anytime we are in Boston." — Charles Bell
"We had a wonderful lunch at Antico Forno yesterday…first time visitors. I just wanted to tell you everything was great…especially the mussels… We come from Maine where we know our mussels! Everything…the pizza, the bread, the pasta, the service, the whole experience was a 10. Thank you!" — Pete Smith
"One of the most memorable meals"
"I've been going to the North End for years and always love trying new places since they are all so good… but I think the other restaurants have met their champ. I had one of the most memorable meals and even though I was just there 4 days ago, I'm taking my husband tomorrow night. I have definitely found "my new spot" to dine. Loved the food, loved the service (Dana) was friendly and informative. When we met the owner (Carla) she treated you like family. The atmosphere is amazing – loved the brick and the lighting, just a wonderful experience full circle. Thanks!!" — Jennifer Casey
"Fabulous dining experience"
"I would like to let you know that I have had another fabulous dining experience at your establishment. I went there last year for the first time and it was so packed that we ate at the bar. I was glad because I liked talking with the bartender and took her recommendations for my food order. I believe her name is Sarah. I went back to visit my brother again last week and she was there. We decided to sit at the bar again and eat. She was very busy and worked very hard and fast. She even remembered us from the year before. She is such a joy to talk to and is always smiling. The food there is excellent and I have recommended it to a lot of my clients. I will be back in a few weeks and I look forward dining in your restaurant again." — Steven "Stitch" Held
"We tell our friends about Antico Forno"
"Hi The last time we were in Boston we had lunch at your restaurant and were very pleased. This past Wednesday 3/13 we returned to Antico Forno and again it was lunch at it's best. What brand of olive oil is used?. We will return again when the opportunity arises. We tell our friends about Antico Forno." — Richard Carabillo
"Great food and excellent service"
"We were passing through Boston yesterday on our way from Ireland to Virginia and had dinner with our daugther and her fiance at your place. I am gluten-free and your lovely server (#2, I'm sorry I didn't get her name) was so sweet to me and served me a gluten-free version of the Foccacina Con Caprino with sausage on top. It was absolutley delicious. Thank you so much for the great food and excellent service!" — Andrea Larkin
"The food was great like always"
"Hello my name is Patrick Gillis. I just wanted to say thank you. I was down there a couple weeks ago with my wife spending our 3 year anniversary, the food was great like always and the staff was awesome. I usually don't send emails but I was very impressed by everything. Food, People all was great! Thank you. I was just curious if your restaurant has any tshirts or memory stuff for my wife to scrapbook? Thank you and look forward hearing from ya. " — Patrick Gillis
"The service was spectacular"
Dear Carla, Thank you so much for organizing the luncheon on Saturday for my sister Juliet Fernandez. All of our family and friends had a fabulous time. The server, Adrian, and his team, were excellent! The service was spectacular, the food was amazing, and the time that we had was priceless. Thank you so much and please extend a warm thank you from me and my father to you and your staff. Rose, the bartender as well as an extremely nice lady with black hair (I apologize for never getting her name) were very helpful and courteous and went above and beyond by helping organize the flower centerpieces that we brought in along with helping serve and cut the special cake that we had prepared. Overall – excellent experience. Thank you again!" — Emily