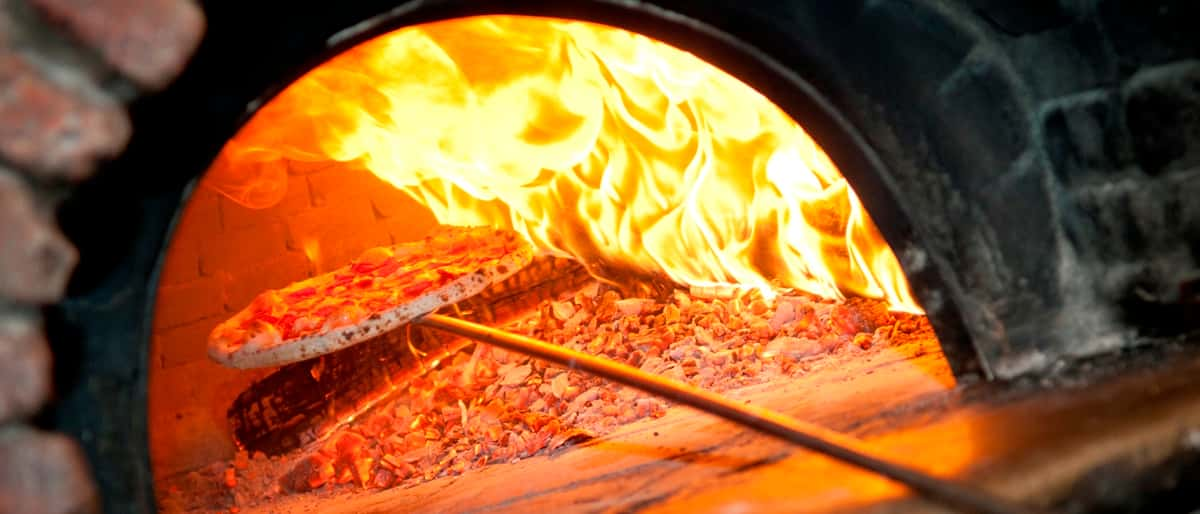 Falling for an Italian lunch at Antico Forno
Falling for an Italian lunch at Antico Forno
Most people would rather stave off the inevitable end of summer than revel in it, but there are reasons to look forward to fall. One of them is lunch at Antico Forno.
On restaurant-cluttered Salem Street, Antico Forno is distinguished from its neighbors by the big brick oven that dominates the back wall. Dishes are sent to this oven to be "finished" — gnocchi , for instance, is covered with a basil-laden plum-tomato sauce and topped with slabs of smoked mozzarella, then relegated for its final minutes to the high heat of the oven. The mozzarella gets slightly browned, and the red clay pot the dish is served in radiates enough heat to warm you from a foot away. Another great entrée is the ribollita , a hearty Tuscan bread soup made with vegetables, cannellini beans, and parmesan cheese. The soup is too heavy for sundress-and-sandals season, but it's perfect for autumn and will probably be even better come winter.
Naples, Florence, and Milan, all in one North End restaurant : Antico Forno
Ribollita: it's a Tuscan soup that's "reboiled." Can advertising your dish as leftovers hook customers? Believe me, this concoction of white beans, red cabbage, red onion, leeks, garlic, celery or fennel, carrots, tomato, and ham, all soaked up with generous slices of unsalted bread, will gladden the heart of any Florentine. Like most stews, it just gets better with reheating.
When I walked into Antico Forno, I though that it must be a Tuscan restaurant. It has a homey, rustic atmosphere characteristic of central Italy: brick-brown square-tiled floor, terra-cotta walls, simple wooden tables and chairs, hanging lights and ceiling fans, dried flowers in vases on the wall. On one side, a hutch with bottles of the house red and loaves of country bread; on the other, a wood-fired brick oven with a statue of St. Rocco in its alcove, and a huge standing vase in what looks from a distance like one of the famous Deruta patterns . You could be sitting in a friend's kitchen in Cortona, or Castiglion Fiorentino.
Antico Forno is a cozy, neighborhood kind of place; many of the customers, you'll observe, are well known to the serving staff. This is not a restaurant for intimate dinners or discreet conversations; when it's crowded it can be quite noisy. It is a place to enjoy hearty, honest food at fair prices.
That is, as long as you don't fill up on the country bread and olives in green oil that land on your table when you sit down. The lunch menu offers soups (that ribollita), salads (buffalo mozzarella and tomato;), sandwiches (oven-roasted lamb; grilled chicken breast with fresh mozzarella), pastas (linguine with clams and mussels; rigatoni ), and pizzas baked in that wood oven. Dinner adds some new appetizers and pastas, plus an entree list: oven-roasted chicken with garlic and herbs, wood-grilled swordfish with a balsamic vinaigrette, rabbit baked in agrodolce sauce. There are also specials, usually seafood-oriented — lobster ravioli, for example, or blue marlin.
The ribollita arrives in a terra-cotta crock and offers the same country goodness, even without any cabbage: cannellini and vegetables drizzled with parmesan and olive oil, served with ample bread to soak it up. Baby octopus and mussels in a spicy plum-tomato sauce and rolled eggplant stuffed with fresh mozzarella, ricotta, and basil and baked in tomato sauce are similarly excellent. The oven-roasted lamb sandwich with Calabrian peppers and onions is a delightfully messy affair, the thick bread soaking up the juices. The mixed-green salad — actually red and green — exemplifies what's right about this restaurant: no pretension, just fresh radicchio, mesclun, arugula, and romaine in a balsamic vinaigrette.
The pastas, all of which are served in some variety of fresh plum-tomato sauce, reflect Antico Forno's Neapolitan origins. Linguine with calamari in a puttanesca sauce didn't give much evidence of the promised capers, and the pasta, al dente on arrival, continued to cook in the dish. But the tomato sauce was fresh and nicely balanced, and the calamari rings and tentacles were tender. Pizza with artichoke hearts, porcini, cherry tomatoes, and buffalo mozzarella was the best I have ever had.
The entrees move north, to Tuscany and Lombardy. Roasted veal stuffed with spinach, mushrooms, and fontina and served with a three-cheese (mozzarella, ricotta, parmesan) asparagus risotto seemed to have been marinated in milk or cream and cooked with black pepper and olive oil. It's a superb example of Milanese cuisine, the softness and creaminess of the veal complementing the smoothness of the perfectly cooked risotto.
Antico Forno gives you the best of Italian country cooking.